Legend Turbo - vin 502
One of the best kept secrets in the DeLorean saga is the Legend Twin Turbo project. Contracted by Mr. DeLorean before the first DeLorean rolled off the factory line, Legend Industries was supposed to turn the sluggish PRV engine into a beast. If DMC had not collapsed prematurely, then there would have been some bad ass DeLoreans on the streets during 1983/84. Although the company went under due to DMCs failure, there still exist three or four working prototype Legend Twin Turbo engines. This section will profile two cars that have these engines, and the historical significance behind each car.
VIN 502
Images
Real Media Movie Clip Download: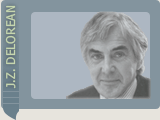 "The DeLorean was always meant to be a powerful car. Thus, Legend Industries was contracted to produce a Twin Turbo version of the PRV. The prototype version was fitted to the third official car to roll off the production line, VIN #502. Download the video clip to see more of this car."
Performance Car, January 1984
It was hard to believe that the unshaven, tired and bedraggled figure shown on television newscasts, being led handcuffed to a Los Angeles federal court to face a £12m drug trafficking charge was the same maverick vice-president who had a dream; to build an exotic sports car with gull wing doors, and to wrap it up in silver.
full article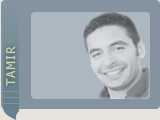 "This car running under 12 lbs of boost can do 0-60 mph in 5.8 seconds, and a 1/4 mile in 14.7 seconds. It is impressive for a car today to produce those kinds of numbers, let alone a DeLorean back in 1982! A close-up of the engine."
Car February 1979
The DMC 12 is DeLorean's dream car. It is the project which he has hawked around the world, negotiating with governments as disparate as Puerto Rico, Spain and Eire before discovering that the best deal lay in dear old Britain. If the project comes good, the British Government will recoup its investment over the next 30 years, receiving £185 per car for the first 90,000 produced and £45 per car thereafter.
full article
"Fred Dellis was the major brain power behind the development of the twin turbo engine. He ran Legend Industries and was unfortunately pulled down in DMCs demise, since they were his largest client."
Popular Classics September 1993
There was a waiting list of several months and DMC-12s were changing hands at a premium. The official price was $25,000, but up to $33,900 was recorded for a second-hand model. But it wasn't long before stockpiles of cars built up and financial problems beset the company.
full article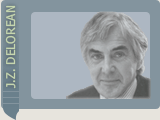 "The car is basically the same as any other DeLorean, but the engine and performance are like no other. Every component of the engine was tweaked in some fashion in order to make it perform the way it does."