Wheels
AutoWeek October 19, 1982
The only thing about GM that DeLorean may have missed was the easy access to mountains of credit. He soon proved more than able to find cash on his own. Funding for his car was a complex financial patchwork quilt, stitched together with little more than the thin thread of one man's reputation.
full article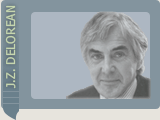 "The Deloreans rims and tires are unique since the rear tires (235/60HR15) are larger than the front (195/60HR14)."
Ladies' Home Journal, September 1983
Cristina, and John as well, maintain they are born-again Christians. Such professions of faith bring to mind slightly suspect images of penitent Watergate burglars, claiming to have seen the light.
full article

"Press on the thumbnail to see the tread on my new Yokohama AVS Intermediate V rated tires."
(Detroit) Automotive News March 9, 1981
John Z. Delorean, DeLorean Motor Co. chairman, and his colleagues are so confident of the car's success when it goes on sale in the U.S. in late April, they plan to make a general public stock offering in the U.S. in order to finance the next project, a four or five-seat version of the car.
full article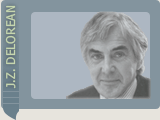 "The Goodyear NCT HR60 Steel-Belted Radial Tires (first two pics) which were standard on the Delorean during production were soon discontinued by Goodyear due to poor design."
People, December 24, 1984
The government said that DeLorean acted out of greed; his lawyers said he acted out of fear, to protect his family from drug dealers. The jury, weighing the model of matrimonial devotion against the testimony of often bumbling government operatives, decided that evil was not in the mind of John DeLorean.
full article
Next Article: Delorean Key