Cleveland 2000
The DeLorean Family
"In my personal life at the time, and later after I left, there were only two people who had been able to break completely through my emotional shell: my children, Zachary and Kathryn. They had taught me to reach out." - J.Z.D.
DeLorean by John Z. DeLorean with Ted Schwarz
Real Media Movie Clip Download: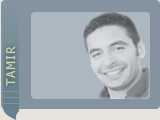 "Meeting Mr. DeLorean for a second time was a real treat. Once again, he was very gracious and outgoing with all the DeLorean fans. Download the video clip to the right of the picture for a short video of my encounters with the DeLorean family."
DeLorean by John Z. DeLorean with Ted Schwarz
When Cristina finally did become pregnant, I was thrilled but worried. I did not know then that a father does not love one child more than the other. He does not place them in competitions, trying to see which is cuter, which is smarter, or which is the more pleasurable. Kathryn was born when Zachary was six, and never have I favored either child. I love my daughter as deeply as I love my son. I never compare them--only cherish their uniqueness. Zachary and Kathryn are the best of both Cristina and myself. And they are the finest legacy I have.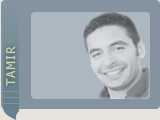 "This was one of the highlights from the trip. The pretty lady to the left of me is John DeLorean's daughter, Kathryn. She was very energetic during the entire convention and was a real pleasure to meet. If only she were single :-)."
DeLorean by John Z. DeLorean with Ted Schwarz
Despite my involvement in controversy from time to time, I had always avoided negative experiences and confrontations, as I have said. Yet now I knew that I was not fighting alone. The Lord was a very real presence in my life, and I had experienced the joy of knowing that. While I knew He had asked me to turn over the control of my life to Him, I was certain that He did not want me to lie down and not participate in the clearing of my name.
"Above is a photo of Kathryn taking some time out to pose with my brother and his car."
DeLorean by John Z. DeLorean with Ted Schwarz
I have no big plans for my children, no direction in which I want them to travel. I do not expect them to become engineers or one day run their own car companies. Whatever their interests, whatever their abilities, that is what I want them to do. I just want them to be happy and well-adjusted. While I am hoping to leave them enough money to buy the time they need to do whatever is right for their lives, I also want them to know that the only true wealth comes from being in touch with God's plan.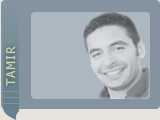 "The man to my right looks much like John DeLorean, but it is actually Mark DeLorean, his nephew. He is currently running for Cuyahoga County Commissioner in Ohio. Good luck Mark!"
DeLorean by John Z. DeLorean with Ted Schwarz
Price competition was not the only problem I was facing with GM. I wanted the DeLorean to be sold through existing dealerships whose product line did not contain a competing car but whose customers could afford such a sports car. This meant dealerships such as Cadillac. I knew some of the owners of these dealerships from my days at General Motors, and most of them knew me.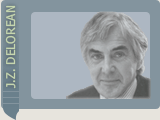 "Here is an interesting photo of the Cadillac DeLorean dealership that is based in Cleveland. It is owned by my brother and nephew Mark."